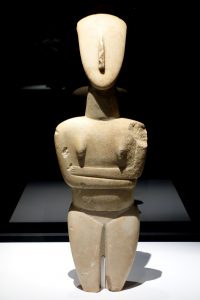 Marble figurines made ca. 5000 years ago in the Cycladic Islands of the Aegean became all the rage for collectors, and a great influence in Modernist Art. Easily looted and almost as easily faked, these objects have a unique role in the modern world. The question is, what was their role in the ancient world?
More to see, read and hear:
Gill, D. W. J., and C. Chippindale. "Material and intellectual consequences of esteem for Cycladic figures." American Journal of Archaeology 97 (1993): 601-59.
Chippindale, C., and D. W. J. Gill. "Cycladic figurines: art versus archaeology?" In Antiquities: trade or betrayed. Legal, ethical & conservation issues, edited by K. W. Tubb (1993): 131-42.
Review: A Seductive and Troubling Work. Reviewed Work: The Cycladic Spirit: Masterpieces from the Nicholas P. Goulandris Collection by Colin Renfrew, Christos Doumas. Review by: Ricardo J. Elia, Archaeology. Vol. 46, No. 1 (JANUARY/FEBRUARY 1993), pp. 64, 66-69 http://www.jstor.org/stable/41766251
Renfrew, C. "Keros: Rethinking the Cycladic Early Bronze Age", Penn Museum lecture: https://www.youtube.com/watch?v=epwk71maFRc
Podcast: Play in new window | Download
Subscribe: Google Podcasts | Spotify | Stitcher | RSS | More